User friendly, fast responding, portable and compact hydrogen gas leak detection instrument used for the precise localization of water leaks. One of the rare occasions where quality and accuracy doesn't cost an arm and a leg. The Rivelgas Combi has been specifically designed for the water leak detection industry, and is portable enough to be carried in your pocket. Try it, you won't regret it...
Characteristics:
Digital reading on LCD display.
ATEX certified for safe use in explosive environments.
Fast responding.
Environmental operating temperatures at between -25 to 50ËšC,
with humidity at

< 95%.

Measuring ranges in 0-10000 PPM and % Vol. with automatic or
manual change-over.
Internal filter to prevent water & dust penetration.
Ecological, rechargeable NiMH batteries.
Over 12 hours of continual use on a single charge.
On board membrane aspiration pump at 0.7 l/m.
Weighs only 450g with dimensions of 290mm X 70mm x 33mm.
Recharging and functionalities control managed by a microprocessor.
Optical and acoustic programmable alarms.
External anti-water filter is fitted on bell probe.
Standard Package Includes:
Rivelgas Combi gas detector.
Bell probe.
Leather carry pouch.
Hard PP carry case.
Battery charger/Car charger.
Operation manual.


Bell Probe Specification:
1. Pommel for bell probe.
2. Support for bellows.
3. Rubber bellows for bell probe.
4. Pole for bell probe.
5. Flexible clear tube.
6. Dust filter.
7. Female coupling connector for probe.
8. Water filter SLFA.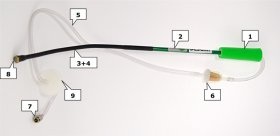 Flexible Atmospheric Probe Specification:
1. Pommel for indoor probe.
2. Pole for indoor probe.
3. Flexible raw steel tube.
4. Thermo-constricting cover.
5. Flexible clear tube.
6. Dust filter.
7. Female coupling connector for probe.
8. Brass filter.
9. Water filter SLFA.

Optional Accessories:
Carpet probe.
Atmospheric flexible probe (indoor leaks).
Multi stage hydrogen regulator.
Air hose (30 metre).
Pressure gauge set with six tap adaptors.