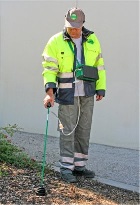 The base of any leak detectorsrange of equipmentshould include our superior hydrogen gas detector for those seeking pin point accuracy in the field of water leak detection.


Fuji Tecom, founded over 60 years ago as a manufacturer of high quality water leak detection equipment, continues to lead the field internationally by offering technologically advanced water leak detection equipment. Since 1958, thousands of water departments and leak detection professionals world-wide have chosen Fuji leak detection equipment as their preferred brand.


Fuji Pipe & Cable locators with its high performance, assists you in the fieldby accurately locatingunderground utilities such as metallic water lines, gas lines, tracer wirein plastic pipe, telephone/TV cables, copper and aluminum wire, conduit and power lines. This is the result of an evolution from the original FUJI TECOM Pipe & Cable Locator manufactured in 1967. The differential antenna minimizes influences of inductive fields and thus facilitates the accurate loca


Our ultrasonic flow meter and pressure recorder aids with testing the integrity of any piping system and confirmation of waterleaks. Designed for ease of use for pipe sizes ranging from 50mm to 6000mm.


Damage tocables and pipes can be prevented by the clever use of location & detection technology.Our Line Tracer Rods have special thick copper conductors for maximum locating capacity. There are several locating advantages such as the exact location of pipes and cables, location of fractures and obstructions, depth measurement and problem solving. Itbenefits installers to utilize tracer rods to determine the precise curve of a conduit/pipe and pinpoint trouble areas. It pro
---